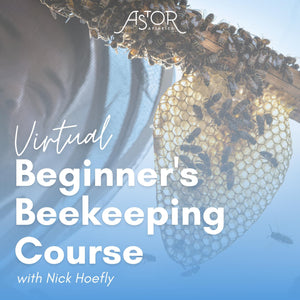 Learn about bees and what it takes to keep a hive of your own. This 5-class virtual course will cover everything from basic bee biology and behavior, to setting up and taking care of a hive over the full season.
Schedule:
10/13/2022, 6-8pm - Class 1: Honey Bee Basics

10/20/2022,

 

6-8pm - Class 2:

 

Caring

 For Your Bees
10/27/2022,

 

6-8pm - Class 3:

 Prepping For Your Bees

11/03/2022,

 

6-8pm - Class 4:

 Pests & Diseases

11/10/2022,

 

6-8pm - Class 5:

 Honey & Bee-yond
This course will prepare you to establish a hive on a rooftop, balcony, or backyard. Beekeeping is easier and more rewarding than you may think, and an excellent hobby to get into in the city or suburbs. At the end of the course, you will have the opportunity to sign up for a free 30-minute consultation with the instructor to determine your next steps and a custom strategy to the upcoming season.
Classes will be held for 5 Thursdays starting October 13th, from 6-8pm. All classes will be recorded if you miss one. You will have a chance to go over any questions with the instructor once you catch up.
Your instructor is Nick Hoefly. Nick is a Certified Master Beekeeper and has been keeping bees professionally in NYC for over 6 years. Aside from his own bees, he is a trusted beekeeper for NYC institutions like Green-Wood Cemetery and the Javits Center, not to mention many new and seasoned hobbyists who rely on his expertise to help them improve their own beekeeping skills.
Benefits
Live classes with guidance and Q&A with a Certified Master Beekeeper.
Email support for questions during the course.
Course materials to include season- and location-specific references for NYC and the surrounding areas, cheat sheets, and season strategy worksheets.
Free 30-min Consultation with the instructor to help you get set up for next season.
Discounts on additional services and future classes. Discounts are available for the Urban Beekeeping Apprenticeship, Mentorships, House Calls, and Classes in 2023.
---
FAQs
Is there a minimum age requirement to attend?
This course is recommended for ages 13+, however, children are welcome. Please note that kids' pricing is not available. All tickets are general admission.
Can I take this course with a family member?
Yes! Beekeeping is always more fun with others. You are welcome to attend this course with anyone in your household for the cost of one ticket. Please note that you will still only receive the benefits, discounts, etc. for one ticket. For example, your family will only get one free 30-minute consultation as part of your ticket to the class. If you would like the benefits for each person, please purchase the appropriate number of tickets to the course.

What does a virtual event mean?
It means that we will be streaming this class online as an interactive virtual event. You can enjoy this class from the comfort of your own home. We use Zoom to stream classes and all students will need to install the Zoom app on their computers. Once you receive the class link, you will be prompted to download and install the app. It's a very easy process.
What do I need to bring to the event?
You're welcome to have some writing materials handy, however, we will provide a digital informational handout with the bullet points we cover in class.
Do I need to purchase any books or other materials?
We will provide handouts and other reference materials covering the information discussed in this course as PDF documents for download. We do recommend "The Beekeeper's Handbook" as an excellent source of material for the new and continuing beekeeper however, it is not a requirement to take this course.

What's the refund policy?

We will honor 100% refunds within a grace period of 48 hours after purchase. There is no grace period for purchases within 7 days of the first class. After the grace period, refunds are not available for this class. Please look over the description and contact us with any questions or concerns before you purchase your ticket.
If you purchase a ticket and cannot make it, you may transfer the ticket to another person. Please contact us with their information at least 24 hours before the class. Transfers will not be honored after the course starts.
Can I take just a few of the classes?
This is a full course and cannot be purchased a la carte. Whether you come for one class or the whole thing, you pay the same price. Each class builds on the information from the one before so the course works best when you attend all classes.
What if I miss a class?
No worries. We record each Zoom session and post it privately for all students. This means that even if you attend the class, you can go back and review it as much as you would like afterward. If you do miss a class, review the recording and contact the instructor if you have any questions. We are happy to make some time to get you caught up. You will have access to these recordings for at least one year after the course ends.
How can I contact the organizer with any questions?
You can always drop us a line at hello@astorapiaries.com with any questions not answered here. We'd love to talk with you.
An Excellent Beginner's Crash Course! Well Worth
Through the duration of a 5 week course, Nick provided enormous insight into all the ins and outs that are not just about the things needed to start and maintain hives, but everything surrounding apiary culture as a whole. Its a topic that can have a lifetime dedicated to learning more about, but he makes all the information very accessible for newcomers. His knowledge and professionalism really establishes an educational space that makes learning about the logistics and effort necessary to taking care of bees feel like an enriching endeavor to pursue.
It was such a great experience that we became rooftop beekeepers...
My husband and I took Nick's beekeeping course at the Open Center. It was such a great experience that we became rooftop beekeepers at our home. Nick has mentored us on our roof for the past two years. He is knowledgeable, patient and reliable. This experience has been amazing and I highly recommend Nick Hoefly and Astor Apiaries as your beekeeping central.