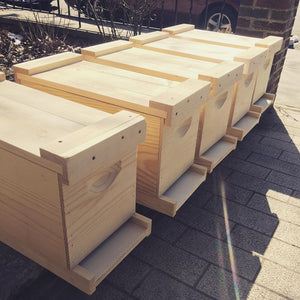 We will have a limited number of 5-frame nucleus colonies(nucs) available this year. Each nuc will have a laying marked queen with at least 3 frames of bees.
2022 Nucs will be available in mid-May. Exact pickup dates will be set by May 1st.
The 5 frames* will consist of:
2 frames of brood
1 frame of pollen
1 frame of honey/sugar syrup
1 frame of foundation or empty comb
*We use medium frames. These may be used in medium or deep boxes. If in deep boxes, the bees will draw comb below the frame. Contact us if you have any further questions or concerns about using medium frames in deep boxes.
Nucleus Hives are not eligible for promotional discounts.
Ordering Instructions
Our stock of Nucleus Hives varies throughout the season. Please email us at hello@astorapiaries.com before you make your purchase to make sure we have hives available. Your hive will not be reserved until we have received your full payment.
We will not ship any bees. Please choose "Local Pickup" at checkout. We will be in touch with you shortly after receiving your order to schedule a time for your to stop by and pick up your bees.
If you would like to order additional items(honey, etc) from our shop today, please make a separate order for those items so you can choose the appropriate shipping method.
If you get stuck at any time during checkout, please email us at hello@astorapiaries.com. We are here to help. :)
Hive Box
Nucs will be available in waxed cardboard or plastic hive boxes. These are handy to keep around in case you need to quickly house a swarm or create a split.
If you do not need this hive box and plan to throw it away after installing your bees, please consider returning the hive box so we can recycle and reuse it. Bee green. :)
Notice About Weather & Pick-Up
We will be in touch to set up a time for you to pick up your bees. It's always best to be ready to install your bees right after you pick them up. If not right away, you should be prepared to install your bees within 24-48 hours of receiving them. Please make sure your equipment is ready.
Cancellation/Refunds
Nucleus Hive orders are non-refundable.
We will only issue refunds if we are unable to fulfill your order due to circumstances within our control. If something happens to the nucs and we can no longer fulfill them, we will refund the affected orders. Any circumstances not in our control, such as weather, your ability to pick up your nuc, etc, are not valid reasons for a refund.

If you cannot pick up your nuc, please consider asking someone else to pick it up for you or find someone to take over your nuc. If you do this, please contact us immediately so we can collect the new customer's information and contact them.
Please make sure you are able to collect your nuc if you make a purchase.
Returns / Replacements
All nucleus hives will be maintained by our own Master Beekeeper. Each hive will be guaranteed to have a laying queen, all stages of brood, and at least 3 frames of bees. If you find anything less upon installing your bees into your equipment, you must contact us immediately.

Your hive should be installed within 24-48 hours of receiving them. We cannot accept responsibility for your bees if you wait longer than that to inspect and install them.
Delivery
If you need your Nuc(s) delivered and/or installed, this will fall under our standard House Call fee of $120/hr, 1-hour minimum. If you are outside New York City, travel time is charged at the rate of $60/hr in addition to the standard House Call charge.