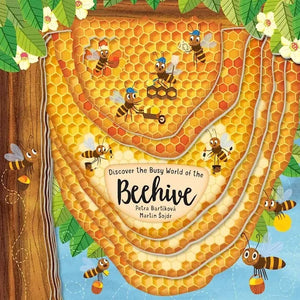 Dive into a world of wonder and discovery with our vibrant and captivating beehive adventure! Designed for inquisitive minds aged 5 and beyond, this enchanting book brings the magic of hive life to young readers while sparking nostalgic joy in parents and grandparents.

Introducing a truly unique reading experience, this colorful masterpiece features pages with delightful cutouts that unveil the inner workings of a beehive. Watch as curiosity comes alive with each turn of the page, revealing the intricate world of these industrious insects. The engaging narrative, accompanied by vivid illustrations, invites young explorers to unravel the mysteries of this remarkable habitat.

Crafted to captivate, educate, and inspire, this interactive gem offers thick pages that are both durable and engaging—a perfect gateway to ignite a lifelong love for learning. Imagine the smiles lighting up faces as kids and their grown-ups embark on this educational journey together.

Whether you're a parent, grandparent, or gift-giver on the hunt for a meaningful present, our beehive-inspired book is a treasure waiting to be discovered. Unleash imaginations, foster curiosity, and create cherished moments with this delightful addition to the world of children's literature.

Ignite the buzz of excitement with "Beehive" – where enchantment and education meet on every beautifully crafted page. Get ready to journey through the hive together, one smile and one discovery at a time.

Ages 5 and up.
Hardcover, 16 pages, 9" x 9".