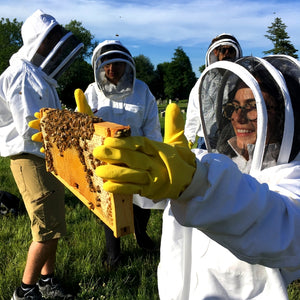 Join us and learn about honey bees in one of the most unique ways, through the hands­-on experience of an active, buzzing beehive! We will dive into a hive during the tour and show you what we look for when caring for our hives, as well as some of the more interesting sights, like honeycomb, baby bees, and the queen bee.
As we dissect a hive, frame by frame, you'll have a chance to hold an active comb full of honey bees. We'll describe everything we see and give you the opportunity to ask your bee questions.
You will leave with a better sense of the honey bees' role in the environment, not to mention the intricacies of what goes into making honey. Find out why they aren't as scary as we're led to believe and what you can do to give them a hand.
You're gonna 'hive' a great time, guaranteed.
Tours meet at Dell Water in Green-Wood Cemetery in Brooklyn. Tours last for about 1 hour.
Here's what the tour includes:
Guided tour by a Certified Master Beekeeper

Protective gear

An opportunity to hold a frame full of bees
Important Information:
Signed waivers are required to participate, no exceptions! Please arrive 5-10 minutes early so we can get waivers taken care of.
We are following all COVID precautions.

 

Masks are required

 

at all times during the tour. Temperatures will be taken when you arrive. If you have been exposed to others with COVID-19 or have a fever in the days leading up to your tour, please contact us and we will try to reschedule your visit. Our guests' safety is the priority.
Hive Tours are completely weather-dependent. If there is rain in the forecast or the temperatures will be less than 65℉, we will contact you by email 24-48 hours before the tour to reschedule or cancel.
Your tour guide(s) may make their job look easy, but it takes lots of work to keep the experience fun, interesting, and safe. If you enjoy your time and would like to show your appreciation with a tip, it is always appreciated but never required.
FAQs
Are there minimum age requirements to attend?
We are happy to host bee lovers of all ages, however, due to our limited number of kids' bee jackets, Child Tickets will be limited to 2 per tour. This event is best for kids 5 and up. All minors must be accompanied by an adult, no exceptions.
What's the refund policy?
Due to the limited number of these events, we are not able to offer refunds. Please make sure you are able to attend before you make your purchase. If you cannot participate, you may transfer your ticket to someone else. You must contact us more than 24 hours before the event to transfer your ticket. We will not honor transfers on the day of the event.
Do I have to bring my printed ticket to the event?
Nope. In fact, we prefer you just bring your phone and show us your e-ticket. Save some paper. If you must print your ticket, we won't judge. :)
Inclement Weather & Cancellation Policy?
If the weather looks like it will not be cooperating on the day of your tour, we will email you 24-48 hours ahead of time and let you know if the tour is canceled. If we have future dates to offer and you accept, we will transfer your ticket to the new date. If you cannot make it to a future tour date, we will issue you a refund.
We will also follow this protocol if there are any other reasons we have to cancel the tour. Besides an 'act of god' or our own decision to cancel a tour, there are no refunds if you cannot attend a tour for reasons beyond our control. We appreciate your understanding.
What if I'm allergic to bees?
Our short answer is that this is not the tour for you. Stings are always a risk during this kind of activity and as such, you participate at your own risk. While our bees our gentle and stings are very rare, it can still happen.
How do we keep our participants safe?
Safety is the main focus throughout the tour.
We will brief you on proper protective gear and safe ways to move and stand around the hives.

We carry a first aid kit for minor cuts or abrasions, however, we cannot administer any medications due to liability concerns. We DO NOT carry EpiPens, Benedryl or any other medication. In the case of a serious reaction, we will contact 911 for emergency services.

Any participants exhibiting reckless or harmful behavior to themselves, the bees or most importantly, anyone on the tour, will immediately be asked to leave.

We are following all COVID precautions.

 

Masks are required

 

at all times during the tour. Temperatures will be taken when you arrive. If you have been exposed to others with COVID-19 or have a fever in the days leading up to your tour, please contact us and we will try to reschedule your visit.
What should I bring?
Wear loose-fitting long pants.

Closed-toe shoes are REQUIRED.

Wear your mask.

Do not wear perfumes or heavily scented lotions.

Do not wear constrictive jewelry like rings or tight bracelets. If stung, body parts that swell may be injured by constrictive jewelry.
For any questions not covered here, please contact us by email at hello@astorapiaries.com. Thanks!
Facscinating!
This was a fascinating tour in a picturesque setting! I planned to do this with my 5 year old only but when I unexpectedly lost childcare for the 2 year old, they were so accommodating and helpful. Even though the jackets were too big for both kids, they had a blast "swimming" in their outfits. We all left with a deeper appreciation of these amazing little creatures.
Amazing Experience
I had such a great experience at the Bee Hives Tour. Tori was extremely knowledgable and I learned so much on this tour. Bees are amazing and it was a treat to learn about them and all they do for our world!
Bee Tour
We enjoyed our tour and very appropriate for our 11 and 12 yo kids. Thank you!
Wonderful experience!
It was a hot day, but so much fun. We learned so much about the hives. I want to bring my children next time!!
Awesome!
I had a great time from the moment I drove in to the cemetery, I was mesmerized by gorgeous gothic entrance and plan to make a day trip there again. The workshop was super informative, very hands-on and more than I anticipated. Nick is a cool guy and really knows his bees, he answered all the questions and made it so interested that the gathering lasted longer because everyone was involved, interested an Nick did not rush us. I highly recommend it and I will probably do it again.