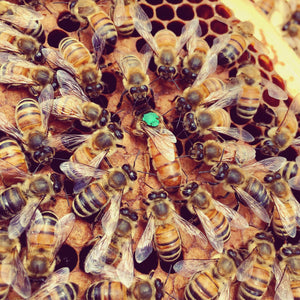 Introducing the VSH Pol-line Queen Honey Bees, the perfect addition to your apiary!
Our VSH Pol-line Queen Honey Bees are a specially bred queen bee stock that exhibit high levels of varroa resistance. Varroa mites are one of the biggest challenges that beekeepers face, and their infestations can cause significant damage to a bee colony.
In addition to their varroa resistance, our VSH Pol-line Queen Honey Bees are also known for their gentle temperament, excellent honey production, and overall hardiness.
Each queen comes in a queen cage with a handful of attendant honey bees. You can use a Queen to re-queen a queenless colony or to make a split from an existing colony without the fuss of letting the bees make their own queen.

We plan to have queens ready for pick-up starting the week of April 17th, 2023.
*Please note, queen cages may vary from the photos. Queen coloration will also vary.
Queens are not eligible for regular promotional discounts.
Quantities are limited and we expect them to sell out, so be sure to reserve your Queens ASAP!
By purchasing a queen, you agree to the terms below.

Please read them in full before purchasing.
Ordering Instructions
We are NOT shipping any bees. Please choose "Local Pickup" at checkout. We will be in touch with you by April 2nd to give you updates as well as details on the specific Pick Up locations & times in Queens and Brooklyn. When filling out your contact information during checkout, please include your email, phone number, and address so we can be sure to have a way to reach you.
If you would like to order additional items(honey, etc) from our shop today, please make a separate order for those items so you can choose the appropriate shipping method.
If you get stuck at any time during checkout, please email us at hello@astorapiaries.com. We are here to help. :)
Notice About Weather & Pick-Up
We will be distributing packages and queens in Astoria, Queens and Sunset Park, Brooklyn. Beekeeping is always dependent on weather and the pick-up date may be changed due to circumstances beyond our control. All customers will be contacted and updated as we have information. By purchasing a queen, you agree to any changes in the pick-up date and understand that this is not a valid reason for a refund. Please DO NOT purchase a queen if you have doubts about your schedule flexibility to pick-up.
You should be prepared to install your queen within 24-48 hours of receiving her. Please make sure your equipment and bees are ready.
We are NOT shipping any bees. Please choose "Local Pickup" at checkout.
Cancellation/Refunds
This purchase is non-refundable unless we are unable to fulfill your order due to circumstances within our control. If something happens to the queens and we can no longer fulfill them, we will refund the affected orders. Any circumstances not in our control, such as weather, your ability to pick up your queen, etc, are not valid reasons for a refund.
If you cannot pick up your queen, please consider asking someone else to pick it up for you or find someone to take over your queen. If you do this, please contact us immediately so we can collect the new customer's information and contact them.
If you just cancel, your payment will be forfeited. NO EXCEPTIONS. Please make sure you are able to collect your queen if you purchase her.
Returns
All queens will be visually inspected by our Master Beekeeper and you upon pick up. On occasion, a queen may not be properly mated. If you find that your queen is not laying within a week of her release, take a picture of the brood frames and contact us immediately.
Your queen should be installed within 24-48 hours of receiving her.
We are not responsible for the mishandling or death of the queen after you receive them. We are also not responsible for queens that are rejected/killed by your hive. This is a risk of queen introduction that is your responsibility once you install your queen. You are strongly encouraged to follow our installation instructions completely. We are here to answer questions and help you be successful, so please let us know if you need help.
Delivery
If you need your queen(s) delivered and/or installed, this will fall under our standard House Call fee of $120/hr, 1-hour minimum. If you are outside New York City, travel time will be charged at the rate of $60/hr. Deliveries will be scheduled beginning the week after our pick-up date and as needed.
A limited number of delivery slots will be scheduled on a first-come, first-served basis. Contact us ASAP if you are interested.
For all other questions, send us a message through our Contact Form or to hello@astorapiaries.com.