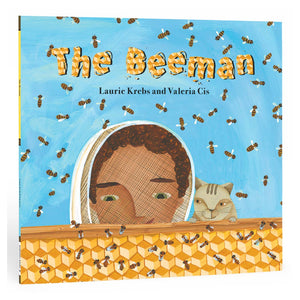 Embark on a sweet journey of discovery with "The Beeman," where the enchanting world of beekeeping comes alive through the heartwarming bond between a wise grandpa and his eager young grandson.

Join in the adventure as Grandpa, the seasoned beeman, unravels the captivating tale of honey's origin. Through rhythmic storytelling, this charming book not only introduces the intriguing art of beekeeping but also weaves in the magic of generations learning and growing together.

Beneath the surface of this captivating story lies a treasure trove of knowledge. Delve into 7 pages of insightful endnotes, where essential bee facts, beekeeping insights, honey's golden secrets, and the crucial role of bees in our natural ecosystem come to life. This unique blend of storytelling and education creates an unforgettable reading experience that nurtures young minds' curiosity and appreciation for the world around them.

And the sweetness doesn't end there! As the final page turns, you'll uncover a delectable surprise—a honey muffin recipe that brings the tale to life in your very own kitchen. Immerse yourself in the sensory delight of creating a treat inspired by the very bees that "The Beeman" celebrates.

Perfect for those who seek the perfect blend of entertainment and enrichment, "The Beeman" is a timeless addition to your library—a tribute to the harmony between generations and the wondrous dance of nature's tiny architects.

Open the door to discovery, laughter, and learning. Share the legacy of "The Beeman" with the young hearts in your life, and sow the seeds of fascination that will bloom for a lifetime.