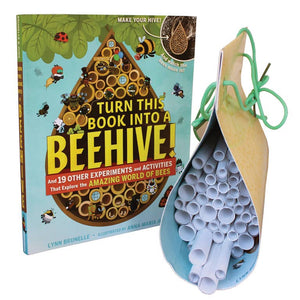 Unleash the wonders of the bee kingdom with "Turn this Book into a Beehive!" and ignite the inquisitive minds of young explorers with 19 captivating experiments and activities that delve into the enchanting universe of bees.

Crafted for the older kiddos seeking hands-on adventures, this immersive journey brings the captivating world of bees to life in thrilling ways. Engage with the magic of discovery through a series of entertaining exercises, interactive activities, and enchanting illustrations that ignite the imagination.

But here's where the true magic unfolds. As curiosity blossoms, so does a deeper understanding of bee life and its intricate behaviors. Through a simple transformational process, embark on an extraordinary mission by shedding the book's cover and ingeniously taping it together. Witness the pages come to life as they become a real, living sanctuary for backyard bees. It's an opportunity to witness nature's marvels up close, fostering a bond between young readers and their buzzing, beneficial cohabitants.

"Turn this Book into a Beehive!" isn't just a book; it's a rallying call for young environmentalists. Empower the next generation to actively make a difference in the world they inhabit. This remarkable book provides the tools to create a safe haven for bees and contribute to the delicate balance of our ecosystem.

Prepare for a revolutionary reading experience that blends entertainment with education, while nurturing compassion for the world around us. "Turn this Book into a Beehive!" is a transformative adventure that stirs a sense of responsibility and curiosity, making it a must-have for young minds eager to explore, learn, and impact the world in their own remarkable way.