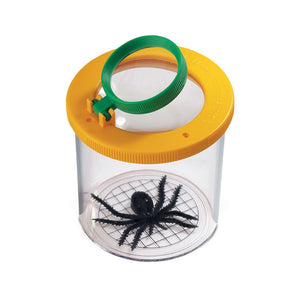 Relive the childhood wonder of collecting bugs with the World's Best Bug Jar! Elevate your insect observation experience with this innovative jar. Its lid boasts a 2x magnifier, while a flip-down feature offers an impressive 4x magnification, bringing the tiniest details into focus. The jar's gridded base aids in comparing insect sizes, adding an educational touch.
Safety is paramount; the snap-on lid ensures your tiny captives remain secure during collection and relocation. For added realism and a sense of scale, a spider figure is thoughtfully included.
Measuring 2½" in height and 2¾" across, this jar is reminiscent of a single-serving yogurt container in size. Its vibrant yellow lid, coupled with the flip-down magnifier, makes it both functional and aesthetically pleasing. Proudly a member of the Safariology collection, this bug jar is crafted with utmost care. It's
Non-toxic and BPA free.